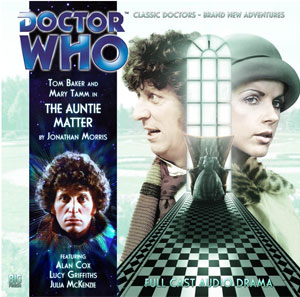 The late Mary Tamm joined forces once more with Tom Baker to record The Auntie Matter.  The Big Finish Audio Drama has released the cover for the production above.  Here's the synopsis:
The story is the first in the second season of The Fourth Doctor Adventures, which stars Tom Baker and Mary Tamm.
"It's astonishing to think that it's only four months until the launch of Season Two," says producer David Richardson. "And it's desperately sad to think Mary is no longer with us to enjoy the public unveiling of Romana's return to the Fourth Doctor's side.
"However, I have no doubt at all that Mary would want us to forge ahead with releasing these stories as planned, and she'd want them to be a huge success. She certainly worked very hard to finish them, despite her illness."
The Auntie Matteris written by Jonathan Morris and finds the two travelers hiding out in the Doctor's house in Baker Street in the early 20th Century. And in London Romana attracts the attentions of young Reggie (Robert Portal), who is very eager to introduce her to his Aunt…
Lucy Griffiths (Robin Hood) plays Mabel, Alan Cox (Young Sherlock Holmes, The Speed of Thought) is Grenville while Julia McKenzie (Marple, Cranford) is the sinister Aunt Florence.
For more information check out Big Finish Audio