JAWS THE BLU RAY! – YOU'RE GONNA NEED A BIGGER TV…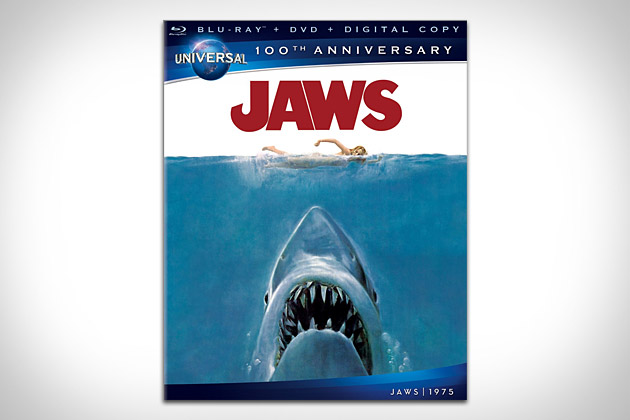 Jaws The Blu Ray Review
By Jessica Dwyer
Funnily enough the Jaws Blu Ray is hitting right at the same time as Shark Week is gearing up on Discovery.  But I digress.
The Jaws Blu Ray release is something Jaws fans have been chomping at the chum for.  And the release doesn't disappoint at all.  
The film itself has been lovingly restored and looks like it could have been released yesterday at a movie theater.  Its vivid and beautiful and I couldn't be happier with it.    The sound quality is also top notch.  I mean, there's really nothing else I can say…its a gorgeous Blu-ray transfer and you aren't a true horror fan if you don't pick it up.  The restoration for the release was meticulous and painstaking.  
One of the greatest extras is the long waited for "The Shark is Still Working" documentary.  The doc features interviews with the late Roy Scheider, Richard Dreyfuss, and Steven Spielberg as well as tons of footage and interviews with people behind the scenes.  There are also interviews with the local residence of the seaside town where the film was made that also appeared in the film.  This is truly one of the best docs about the making of a movie and its effects I've seen.  I really enjoyed hearing the stories from the set as well as seeing just how ravenous Jaws fans are.   I particularly liked the story behind the poster and how the iconic image was created.
But that's not the only extra on this release.  The original 2 hour making of Jaws documentary is included, Jaws: The Restoration about how the Blu-Ray came together is included too.  Deleted scenes and outtakes, storyboards, production photos, Marketing and the phenomena of the film itself featurettes are also included.  Basically this thing is packed to the gills (how many more shark jokes can I get into this review?)
There is also a Digital Copy Download included so you can carry your shark wherever you go.
The films Blu Ray release is part of Universal's celebration of 100 years of making movies.  It just happens to be the year 1975 (which is the year I was born…great year.)    Jaws will be swimming onto Blu Ray DVD on August 14th with a list price of 29.98.
You're gonna need a bigger TV.